Himalayan Chef Introduces 100% Whole Ready-To-Use Flours to Make Cooking Easy, Delicious, and Incredibly Nutritious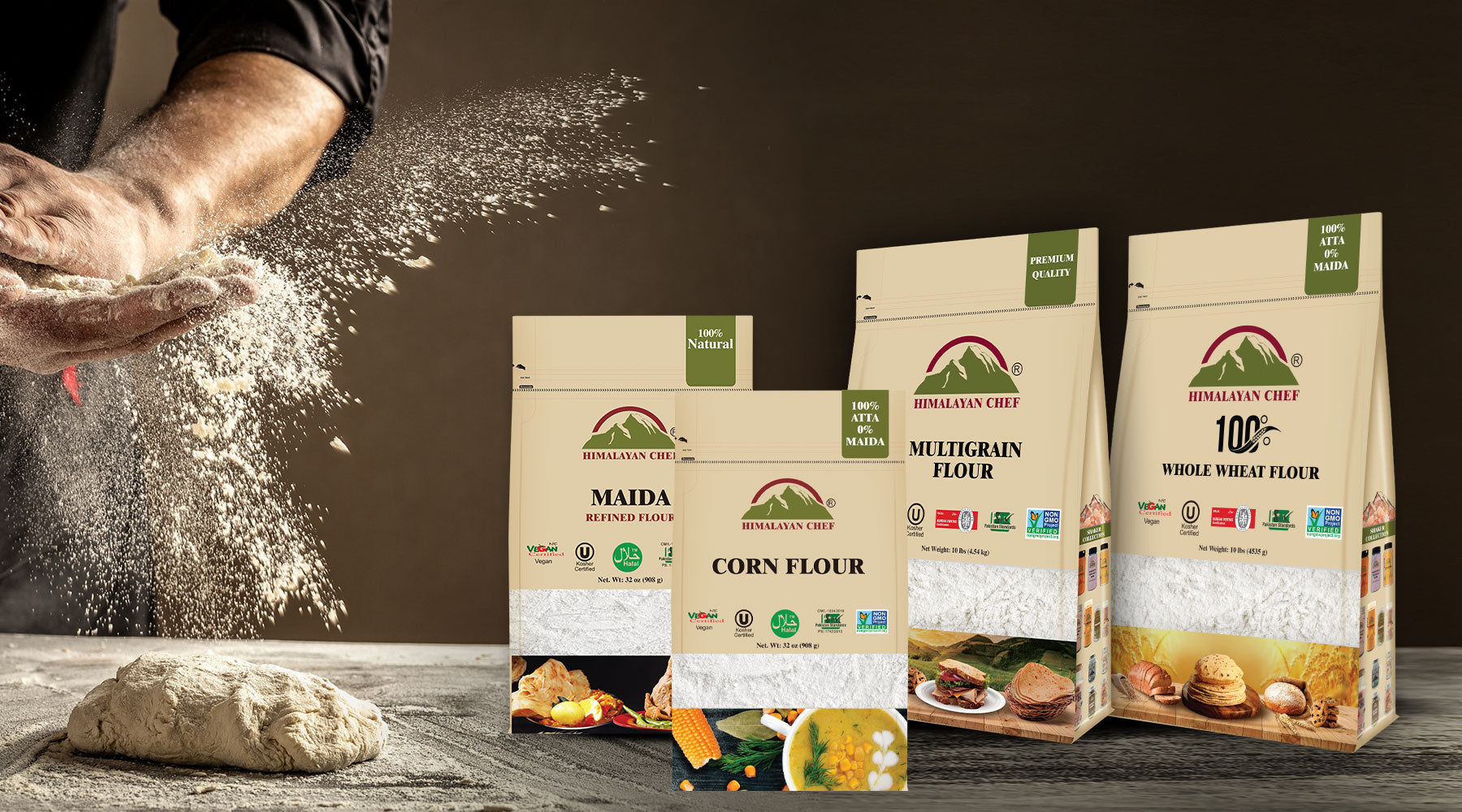 The Year 2022-Himalayan Chef, a global leader in 100% Naturally Pure Food products, and a leading supplier of grain-based consumer packaged products announced to provide its customers with a diverse range of Ready-To-Use Flours, Mixes, and Grains. Powered by high-tech processing, careful sourcing and hygienic packaging, this entire range of whole flour will serve as an integral stimulant for putting the company as the leading Grocery brand in the market.
With the state-of-the-art Milling, Flour Mixes, and Packaging Facilities, the brand is well-positioned to provide 100% Natural Whole grain flour to all major marketplaces nationwide.
"We want our consumer to eat Pure and Fresh. By giving a special focus on sourcing and food safety standards, we believe this will be a revolutionary flour-producing facility in Pakistan. We aim at working on solutions to many challenges faced by our people, the foremost being the unavailability of Pure Food products. Our revolutionary Food Safety technology is used to treat grains, flour and mixes to effectively eliminate the potential presence of harmful pathogens, and artificially introduced additives that negatively impact the overall products safety and consumer usability "says Umair Siddique, Senior Food Technologist, and Quality Control Expert Himalayan Chef.
Pakistan is on the verge of a nutritional crisis at the hands of those profiteers, who are unscrupulously involved in large-scale food adulteration, wreaking long-term havoc on the lives especially when it comes to the low-grade quality of Flour and Flour mixes. Speaking at a seminar on Food adulteration, a research associate elaborated
"Dishonest producers use cheap fillers that are easily disguised to increase the volume sold thereby cutting the cost of pure materials, and thereby increasing their ultimate profit margin on top of adding to the medical bills of consumers". He further explained that, "If any substance "poisonous or deleterious substance", filth or unapproved food or color additives has been added to increase bulk or weight to conceal the inferiority of an item then it is also adulterated. Alum and chalk are sometimes used to whiten the bread, while for stale flour; ammonium carbonate is added to disguise its sour taste"
Availability of Pure unadulterated food products is our only way towards a Healthier Nation. Food industries along with the entire National Health regulatory agency should take part in tracking down the horrors of Food adulteration in all forms under strict guidelines and laws.
"The safety of our ingredients and the quality of our products will always be our top priority; our latest Food Safety Technology preserves the overall Taste and Nutritional value of our ingredients while reducing the overall microbial content to safety levels and maintaining all USDA, FDA, and Kosher standards. The Latest Innovative Machinery used in our milling processes would be a giant leap forward for the company and ultimately for the end-consumer", says Sohail Anjum CEO Himalayan Chef.
The brand works for a broader vision of availability of Pure & Fresh Foods for People in Pakistan and fighting the bigger Evil, Malnutrition. All the ingredients sourced and used are certified organic, vegan, gluten-free, non-GMO, and additive-free. This Year the company is ready to launch an entire Food Segment of Whole Flour, Flour mixes, and Grains, check listing almost all Grocery items from your Grocery List to retain its top position among its Food Industry Peers.
Here's a small brief of the Top-Selling items from this Category (Finest of its Kind)
Whole Wheat Flour: Distinctive Color and Robust Flavor of purely organic Whole-Wheat Grains are milled into premium Quality Whole-Wheat Flour, putting forward highly Nutritious and Purest form of flour from farm to your plate, meeting all ISO Food Safety Standards.
Multi-grain Flour: A perfect blend of Eight Whole Staple Grains with 100% Pure and Fresh Ingredients that bring Delicious Flavor and Soft Texture. It is enriched with Fiber and Protein for Maximum Health Benefits.
Diet Atta: The Best Healthy Substitute for Regular Wheat Flour. Super Fine Texture with a perfect blend of Premium Quality Whole Grains are a rich source of Fiber and Protein and makes this Diet Flour the Best Choice for Weight Loss!
Sugar-Control Atta: A Perfect Blend of Essential Organic Whole Grains such as Whole Wheat, Oats, Soya Bean, Barely, Psyllium Husk, Bengal Gram, Maize, and Fenugreek Seeds that are an essential component of this flour and Nutritionally rich in Protein, Vitamin A, Iron, and Dietary Fibers. With a low Glycemic Index, it serves as an excellent option for managing Blood Sugar Levels.
Gram Flour: Fine Grainy Texture, yummy Taste with strong Aroma and perfect Crunch make it an ideal choice for Coating and being rich in Soluble Fiber, it can assist in keeping the perfect Heart Health.
All-Purpose Flour: Acts as an Excellent Thickening Agent for Stews and Sauces and is used as a Binder during Frying and for giving a flavorful Crust to foods.
Internationally Certified Products: FDA, CTPAT, BUREAU VERITAS Certification, HACCP, Vegan, USDA Certified Organic, BRC Certification, 100% Natural and Kosher Certified.
The brand is widely appreciated by its customers for its high nutritional value fresh grocery food products, free from any kind of contamination and additives with longer shelf life and delectable taste. "Best Whole-Wheat Flour in the world. I used this flour and it makes a Perfect Soft Roti. Used in a lot of other recipes too. Strongly Recommended!", says Fouzia Jameel from Pakistan, a regular consumer of the brand. "Highly appreciate the quality of this whole wheat flour. Perfectly packed in craft packaging that avoids any kind of a mess. It has made making roti much more convenient and time-saving", she further adds.
"We want to provide a permanent solution through our products, the prevalence of diet-related non-communicable diseases such as Diabetes, Hypertension, and High Cholesterol levels is alarmingly increasing day by day. In our research facility, all the Food experts have worked to formulate the Flour and Flour mixes that can serve as an all-rounder dietary solution for these health deteriorating problems. Our Diet Atta and Sugar-control Atta is naturally rich in Fiber and Protein as compared to regular sold and used flours in the market", says Laraib Dawood, Nutrition Expert Himalayan Chef. She further elaborates how important it is to counsel people about how the purity of the food has a direct association with the prevalence of Nutritional deficiencies and ultimately with all these diseases. "Pure Food is nutritionally rich and automatically holds the natural healing potency and is a Natural cure", she further adds. With an enormous number of the World's Top Nutrition Experts, Chefs & Food Technologists, the Himalayan Chef Team works in providing the best quality Food products and incorporating their expertise in the best interest of the customers.
While the patent company WBM International has broadened the audience base through its Innovative brands to further entrench the market, Himalayan Chef has developed its secured food chain, which has brought about a veritable revolution in food handling & quality, immensely benefiting the farmers at one end and enabling customers to get the highest quality food products, absolutely fresh and at a great value.
The brand is offering food products that are perfectly balanced and contain adequate proportions of carbohydrates, fats, and proteins, along with the recommended daily allowances of all essential minerals, vitamins, and health-promoting substances to fulfill all nutritional needs of an individual. Introducing a broad range of nutritionally adequate and pure food products that serve as the basis of prevention for combating diet-related non-communicable diseases.
The entire Flour range and all products are available across all major Online Grocery Stores in Pakistan with easy secure payment methods ranging from Cash on Delivery, Secured Credit Card payment, Bank Transfer, or Mobile Wallets like EasyPaisa and JazzCash, depending upon customer's ease and preference.
About Himalayan Chef
Himalayan Chef is a Grocery & Food Brand that offers a diverse range of food products from Himalayan Pink Salt, Organic Seasonings, Basmati Rice, Pulses, Cooking Oils, Dried Fruits, and Cooking Plates to all kinds of Kitchen Staples. Himalayan Chef is dedicated to providing Pure, Fresh, Tasty yet nutritionally enriched food with no compromise on the quality. The brand works for a greater cause, eradicating Malnutrition that serves as the primary barrier to healthy eating and the driver of diet-related diseases. Himalayan Chef provides a selection of freshly produced Grocery Staples and made from scratch prepared Pure Foods.
Himalayan Chef has been at the forefront of all major Marketplaces worldwide and with most food retail chains such as Whole Foods, Trader Joe's, Safeway, Kroger, Metro, Sam's Choice, Costco, etc. The brand works with Cargill and Morton Salt as the largest supplier of Salt Products and has been doing business in all the major countries of the world, including USA, UK, Turkey, China & Canada.
Please visit us at https://himalayanchef.pk/