Himalayan Chef, Brand with #1 Tasting Salt in the World becomes Pakistan's First Grocery Brand to introduce 100+ Naturally Pure Food Items with the Bigger Aim of Eradicating Malnutrition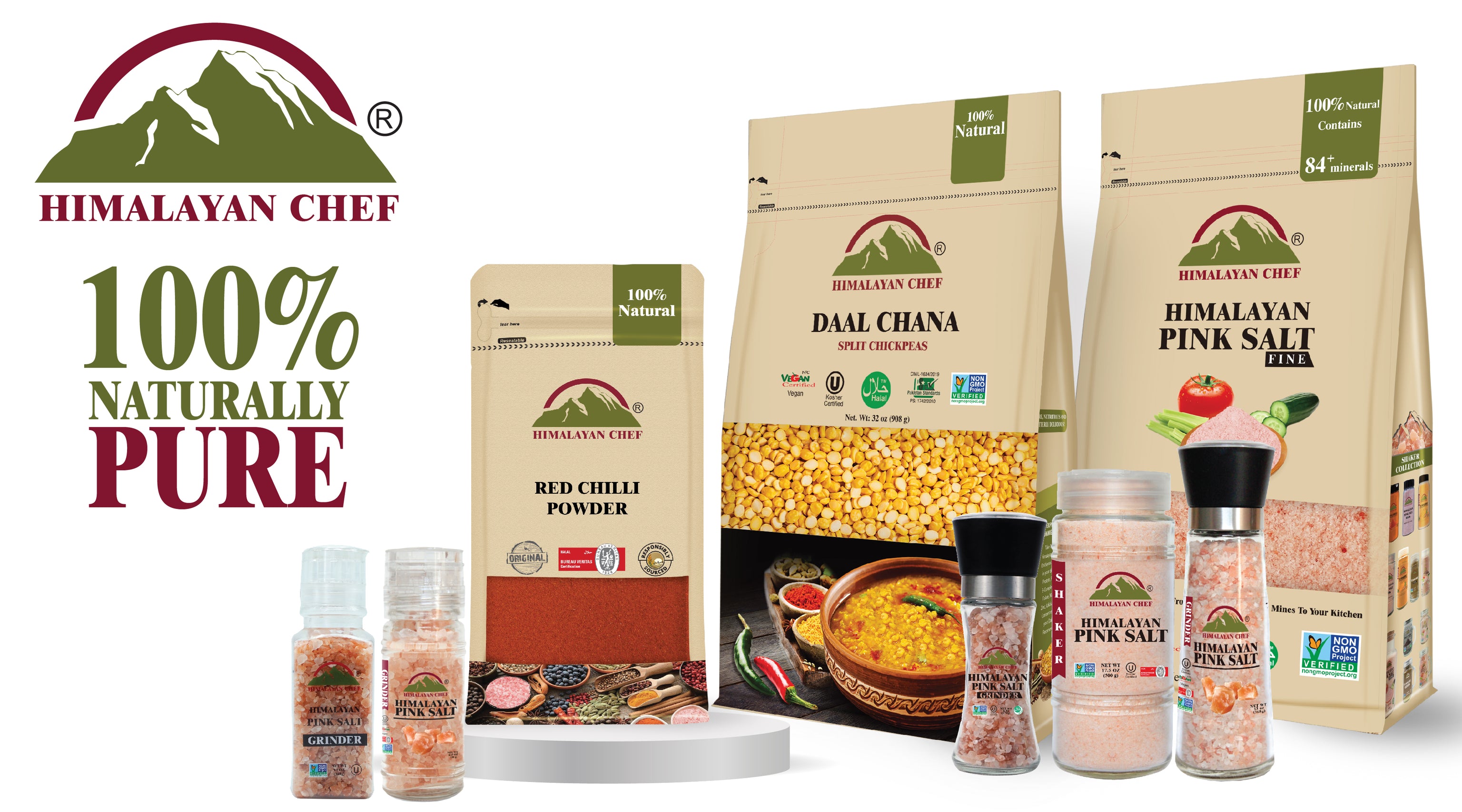 The year 2023: Himalayan Chef-a global leader in Flavor, Taste, and most importantly for its Hallmark Pure Food Products is here with a Mission Availability of Pure & Fresh Foods for People in Pakistan and fighting the bigger Evil, Malnutrition.
"We're here on a Mission! People in Pakistan don't have the proper knowledge and counseling about how to differentiate between something Fake or Pure. We want to educate our people about the importance of Pure Foods and how it directly relates to our Health. It's time we start believing that Pure Food is our Permanent and our Only Medicine", says Sohail Anjum, CEO Himalayan Chef.
"With an enormous number of World's top Nutrition Experts, Food Technologists, and Chefs, our team works in providing the Best Quality Grocery Products under all International Food Safety Standards and incorporating their expertise in the best interest of our customers, we make sure your diet is Nutritionally Adequate and Fresh.", he explains.
The brand is the largest Manufacturer & Exporter of Himalayan Pink Salt around the Globe with a huge customer base; deliberately providing freshness through the secured food supply chain. Having Production, Packaging Units, and Warehouses in almost 27 countries including all the major countries of the world.
Let food be thy medicine, but with the current rising dilemma of Inflation and Adulteration of food in Pakistan, that's definitely not the case. When Pakistan's Punjab Food Authority (PFA) has detected and discarded thousands of kilograms of adulterated Food and Beverage Items, with over 100 brands deemed to be 'unsafe'. 
Consumers are hit by the never-ending crisis of High Prices and Low Quality of Food. Majorities are forced to buy Adulterated Food Commodities and these debased foods themselves are more expensive than pure foods. The quality and purity of edible items are crucial for the general health of consumers. A number of people get ill after consuming impure edible items. This is an injustice to those that pay the rate for a healthy consumable product but are swindled by the manufacturers who might have sold them impure & adulterated food items.
Sharing his views about the Brand, Gaffar Hussain, Senior Quality Control Expert Himalayan Chef, said "We've been doing business for over 25 Years and all our ingredients are sourced from the best origins and latest methodologies and techniques are used for the processing. Our supreme quality ingredients are hygienically clean handled and processed in superior and hi-tech machinery along with HACCP certified hygienic packaging that keeps the Nutrition and Quality Intact".
This Year the company is ready to launch an entire Food Segment with 8 categories check listing almost all Grocery items from your Grocery List to retain its top position among its Food Industry Peers. Introducing separate sections for 84+ Minerals Pink Salt, Organic Seasonings & Spices, Pulses and Legumes, Traditional Spices and Blends, Extra-Long Grains Basmati Rice, Natural Rock Salt Cooking Plates, and many more essential Kitchen Staples.
The brand is widely appreciated by its customers for its high nutritional value fresh grocery food products, free from any kind of contamination and additives with longer shelf life and delectable taste. "Your search for Pure & Nutritionally enriched foods is over! Here's your brand. Fresh, Clean, Natural, and Incredibly Delicious!" says Melina Elden from Australia, one of the many admirers, who never get tired of ranting about how much she loves the brand.
Here's a small brief of the Top-Selling items (Finest of its Kind)
Himalayan Pink Salt—Judged Number 1 Tasting Salt in the World is carefully hand-mined from the Khewra Mines of Pakistan and infused with the richness of 84+ Minerals —100% Natural, Unprocessed and Unrefined Salt holds incredible Flavor and unbelievable Natural Healing Power.
Extra-Long Grains Basmati Rice
Himalayan Chef Basmati Rice ranks among the top quality Basmati Rice in the world. Sourced from the best rice-producing fields of Pakistan and processed and packed with maximum precision Wide range of 100% naturally sourced extra-long, premium aged Basmati Rice with a distinctive natural aroma and non-sticky texture.
100% Whole Flour 
A wide range of 100% Natural, Pure, and Nutritionally Enriched Whole Flours Made with a special blend of Whole grains that add richness and distinctive flavor in every bite. No Mixing, no broken grains, no additives. Just Whole Flour.
Organic Seasoning and Spices
Comes in an Eco- Friendly HACCP Certified Hygienic Customer-friendly packaging to keep the Nutrition and Quality intact. Spices are available in Standable Craft Bags, ready-to-use Grinders, and Shakers that serve as an excellent addition to the kitchen shelves.
Internationally Certified Products:
FDA, CTPAT, BUREAU VERITAS Certification, HACCP, Vegan, USDA Certified Organic, BRC Certification, 100% Natural and Kosher Certified.
"All ingredients undergo stringent and rigorous laboratory tests to ensure the optimum purity, freshness, and taste. Our food products offer the daily nutritional requirements to ensure optimal nutritional status for all ages and groups", says Mahnoor Rasheed, Nutrition Expert Himalayan Chef. She further elaborates how important it is to highlight the availability of Pure Food Products in Pakistan and counsel people to choose Purity and Health over Money. "Nothing is more precious than your health", she says.
While the patent company WBM International has broadened the audience base through its Innovative brands to further entrench the market, Himalayan Chef has developed its secured food chain, which has brought about a veritable revolution in food handling & quality, immensely benefiting the farmers at one end and enabling customers to get the highest quality food products, absolutely fresh and at a great value. Working for the Bigger aims to help people make healthy food choices by making it convenient for them to choose fresh, wholesome meals & groceries under one roof. Offering the Right Nutrition through pure foods accessible to everyone that will serve as the ultimate savior from Nutritional Deficiencies!
All products are available across all major Online Grocery Stores in Pakistan with easy secure payment methods ranging from Cash on Delivery, Secured Credit Card payment, Bank Transfer, or Mobile Wallets like EasyPaisa and JazzCash, depending upon customer's ease and preference.
About Himalayan Chef
Himalayan Chef is a Grocery & Food Brand that offers a diverse range of food products from Himalayan Pink Salt, Organic Seasonings, Basmati Rice, Pulses, Cooking Oils, Dried Fruits, and Cooking Plates to all kinds of Kitchen Staples. Himalayan Chef is dedicated to providing Pure, Fresh, Tasty yet nutritionally enriched food with no compromise on the quality. The brand works for a greater cause, eradicating Malnutrition that serves as the primary barrier to healthy eating and the driver of diet-related diseases. Himalayan Chef provides a selection of freshly produced Grocery Staples and made from scratch prepared Pure Foods.
Himalayan Chef has been at the forefront of all major Marketplaces worldwide and with most food retail chains such as Whole Foods, Trader Joe's, Safeway, Kroger, Metro, Sam's Choice, Costco, etc. The brand works with Cargill and Morton Salt as the largest supplier of Salt Products and has been doing business in all the major countries of the world, included USA, UK, Turkey, China & Canada.
Please visit us at : https://himalayanchef.pk/