Best Pakistani Chicken Karahi Recipe Authentic and Flavorful Himalayan Chef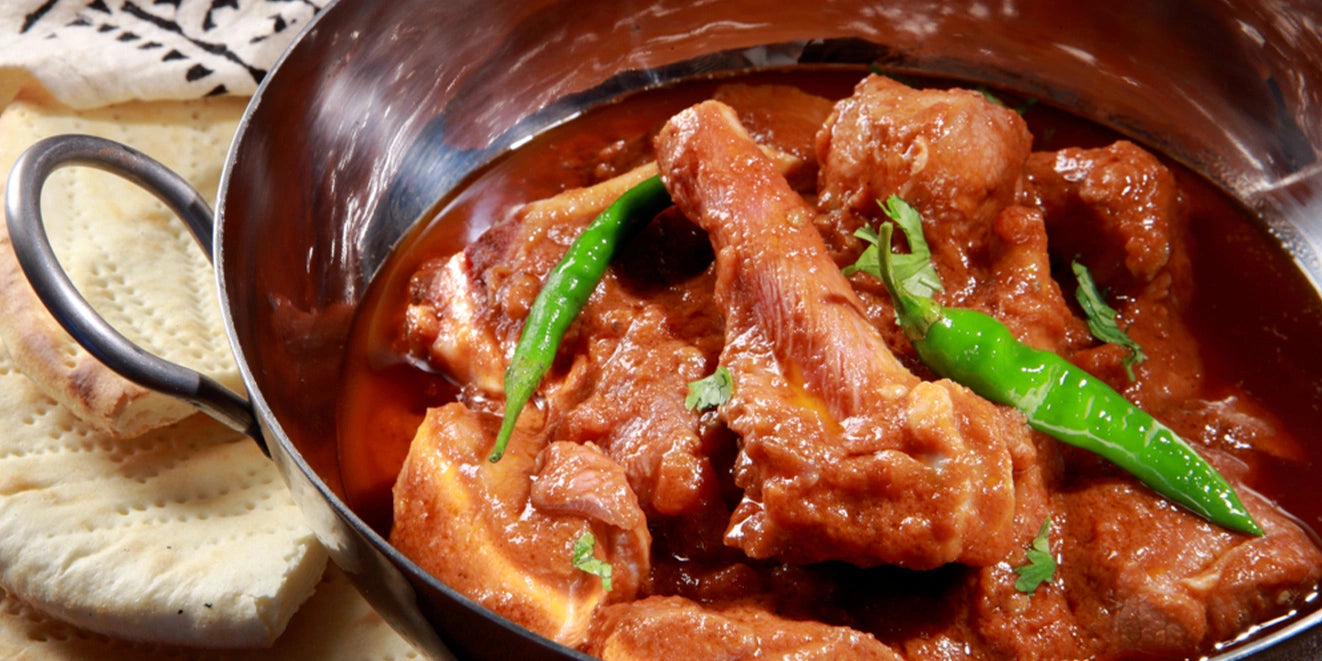 Pakistan is a country famous for its rich and flavorful cuisine. One of the most popular dishes from the region is Chicken Karahi. This delectable dish is a staple in every Pakistani household and is also enjoyed by food enthusiasts all around the world. The dish is named after the wok-like pot in which it is traditionally prepared, known as the karahi.
THE MUST-HAVE INGREDIENTS
Meat
The star of a Karahi is undoubtedly the meat. Whether it's lamb, mutton, beef, fish, or in this case, chicken, the key is to use bone-in meat for added flavor. Any medium-sized chicken will do, but adjust the quantity of other ingredients based on the weight of the chicken.
Fresh Ginger
Fresh Ginger is a defining component of any Karahi. It's used in both the curry gravy and the garnish in its raw form and adds a prominent flavor to the dish. To get the full effect, use a generous amount of ginger.
Fresh Garlic
Another important component of a Karahi is fresh garlic. While its flavor isn't as strong as ginger, it still plays an important role in the dish. Garlic helps to bulk up the masala and is used in large quantities in Karahis since there are no onions in the recipe.
Fresh Tomatoes
A Karahi is a tomato-based curry, so fresh tomatoes are a key ingredient. They provide the base for the gravy and add a tangy sweetness to the dish. It's important to use fresh tomatoes for the best flavor.
Fresh Green Chilli + Coriander
Fresh green chilies and coriander add another layer of fresh flavor to the Karahi. They play into the natural, crisp flavors of the dish and also add a wonderful fragrance. Chopped coriander leaves and sliced green chilies are often used as a garnish for Karahi.
Himalayan Chef Karahi Masala

Himalayan Chef Karahi Masala is a premium spice blend made from 100% natural and pure ingredients. It is a popular spice mix used in many South Asian cuisines, particularly in Pakistan. This masala blend is specifically designed to add a rich, earthy flavor to the meat.
The Himalayan Chef Karahi Masala is made from a unique blend of spices, including coriander, cumin, cardamom, cinnamon, and cloves. These spices are sourced from the fertile regions of Pakistan, where they are grown and harvested under the most favorable and natural conditions. This ensures that the spices used in the Karahi Masala are of the highest quality and free from any additives or preservatives.
One of the most important features of the Himalayan Chef Karahi Masala is that it is made using a traditional recipe that has been passed down for generations. This recipe has been perfected over time and is used by many families in Pakistan and India to create delicious, authentic dishes. The spices are carefully blended in precise proportions to create a perfect balance of flavor and aroma.
The Himalayan Chef Karahi Masala is versatile and can be used in a variety of dishes, including chicken, lamb, beef, and vegetable curries. It adds a rich, earthy flavor to the dishes, enhancing the taste and aroma. The spice blend is also easy to use – simply add it to your dish while cooking, and let the flavors meld together.

INGREDIENTS

1 kg chicken, cut into pieces

2 medium-sized onions, finely chopped

4-5 cloves of garlic, minced

1-inch piece of ginger, grated

3-4 green chilies, sliced

3-4 tomatoes, chopped

1 tsp cumin seeds

1 tsp coriander seeds

Himalayan Chef Karahi Masala

1 tsp red chili powder

1 tsp turmeric powder

1 cup of yogurt

1/4 cup of oil

Salt to taste

Fresh coriander leaves, chopped for garnishing
INSTRUCTIONS
Heat oil in a karahi or a wok on medium heat. Add cumin and coriander seeds and stir for a few seconds until they start to splutter.
Add chopped onions and fry until they turn golden brown. Add garlic and ginger and fry for a few more minutes.
Add chicken pieces and fry on high heat for 5-7 minutes or until they start to turn brown.
Add chopped tomatoes, green chilies, red chili powder, turmeric powder, and salt. Mix well and cover the karahi with a lid. Let it cook for 10-15 minutes on low heat or until the chicken is tender.
In a separate bowl, beat the yogurt until smooth. Add the beaten yogurt to the karahi and mix well. Cook for another 5-7 minutes on low heat.
Sprinkle garam masala and fresh coriander leaves on top of the karahi. Serve hot with naan or rice.

Tips

You can add more green chilies if you want the dish to be spicier.

Adding yogurt makes the gravy thick and creamy. If you prefer a thinner consistency, you can skip this step.

Make sure to fry the chicken pieces until they are golden brown. This adds a depth of flavor to the dish.

If you don't have a karahi, you can use a deep frying pan or a wok.
Pakistani Chicken Karahi is a delicious and flavorful dish that can be enjoyed by anyone who loves spicy food. This recipe is easy to make and can be customized to suit your taste. Whether you are a fan of Pakistani cuisine or trying it for the first time, this dish is sure to leave you wanting more.